Voodoo Kiss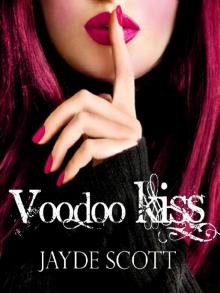 by Jayde Scott
Genre: Paranormal
Published: 2011
View: 835
Read Online
Read Voodoo Kiss Storyline:
Aspiring rock star, Sofia, had her whole future figured out. Or so she thought until her sister's sacrificed in a horrific ritual. Now Sofia's haunted by dreadful nightmares and terrifying visions from a past she never knew existed.
On a trip to Brazil, something awakens inside Sofia -- her legacy, a blessing and a curse, drawing to her every paranormal creature out there: vampires, demons and reapers, ghosts and Shadows, and something much darker that's been twisting its way into her heart and soul. With the help of Thrain, a striking demon of the highest order, she sets out to uncover the truth about herself and the ones she loves.
In a world of love and betrayal, of reincarnation and ancient bonds, to solve the mystery of her sister's murder, Sofia must embrace her own century-old legacy. But do do so, she must also let evil into her soul.
Pages of Voodoo Kiss :