True Colors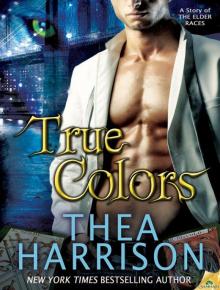 Genre: Romance
Published: 2011
Series: Elder Races
View: 848
Read Online
Read True Colors Storyline:
Meeting your soulmate? Great. Preventing your possible murder? Even better.
Alice Clark, a Wyr and schoolteacher, has had two friends murdered in as many days, and she's just found the body of a third. She arrives at the scene only minutes before Gideon Riehl, a wolf Wyr and current detective in the Wyr Division of Violent Crime—and, as Alice oh-so-inconveniently recognizes at first sight, her mate.
But the sudden connection Riehl and Alice feel is complicated when the murders are linked to a serial killer who last struck seven years ago, killing seven people in seven days. They have just one night before the killer strikes again. And every sign points to Alice as the next victim.
Product Warnings
This book contains a hot police detective, a violent murderer on the hunt, and a heroine that can blend in anywhere...
Pages of True Colors :