Smoked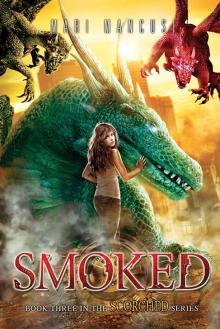 by Mari Mancusi
Genre: Young Adult
Published: 2015
View: 1080
Read Online
Read Smoked Storyline:
Once upon a time the world burned.
Until a girl and her dragon smothered the flame.
But the spark that ignited the apocalypse never went out.
And the Scorch is about to begin.
When Team Dragon rescues Emmy from the government lab, they think the future is finally safe. But they soon discover that Emmy has a secret--a secret so dangerous it could trigger the very apocalypse Connor and Caleb were sent back in time to prevent.
As a dragon hunter, Connor has committed his life to saving the world. There's nothing he wouldn't do to complete his mission… even if it meant betraying his brother and losing Trinity's heart. Even if it meant doing the unthinkable. But a desperate choice meant to prevent The Scorch, may become the spark that sets the world aflame once more.
Pages of Smoked :