When the Clock Strikes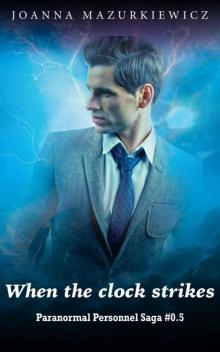 Genre: Romance
Published: 2014
Series: The Witching Hour
View: 359
Read Online
Read When the Clock Strikes Storyline:
It's a short novella written from Nathaniel's point of view, can be read as stand alone or a prequel to £6.19 per Witching Hour (Paranormal Personnel Saga # 1)
I am a Dhampir — half vampire and half human. When my father died he was brought back to life by a vampire. He returned to my human mother as a vampire, and nine months later I was born.
Thoughts about Julia had corrupted my mind to the point that I couldn't function. Since Isabelle, I'd avoided getting involved in a real relationship, keeping things to sex only. I had my routine and women who wanted to sleep with me. But now I didn't want other women; I only wanted Julia.
Pages of When the Clock Strikes :