Silk Is for Seduction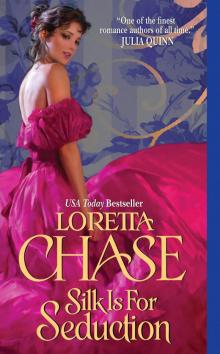 Genre: Romance
Published: 2011
Series: The Dressmakers
View: 2468
Read Online
Read Silk Is for Seduction Storyline:
From the Design Book of Marcelline Noirot:
The allure of the perfect gown should be twofold:
ladies would die to wear it . . .
and gentlemen would kill to remove it!
Brilliant and ambitious dressmaker Marcelline Noirot is London's rising star. And who better to benefit from her talent than the worst-dressed lady in the ton, the Duke of Clevedon's intended bride? Winning the future duchess's patronage means prestige and fortune for Marcelline and her sisters. To get to the lady, though, Marcelline must win over Clevedon, whose standards are as high as his morals are . . . not.
The prize seems well worth the risk—but this time Marcelline's met her match. Clevedon can design a seduction as irresistible as her dresses;and what begins as a flicker of desire between two of the most passionately stubborn charmers in London soon ignites into a delicious inferno . . . and a blazing scandal.
And now both their futures hang by an exquisite thread of silk . . .
Pages of Silk Is for Seduction :