Villainy Victorious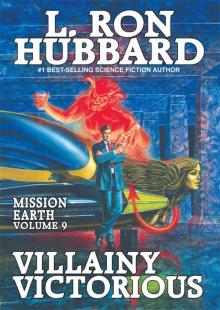 Genre: Science
Published: 1986
View: 1388
Read Online
Read Villainy Victorious Storyline:
A monumental work -- acclaimed as agenuine masterpiece -- L. Ron Hubbard's 1.2-million-word-ten-volume MISSION EARTH dekalogy brilliantly blends science fiction and action/adventure on a vast interstellar scale with stinging satire -- in the literary tradition of Voltaire, Swift and Orwell -- on the world's foibles and fancies.A true publishing phenomenon -- precedent-setting when each volume, in turn, became a New York Times and then an international bestseller -- MISSION EARTH has already sold more than five million copies and continues to appear on bestseller lists in contries throghout the world.
Winner of France's Cosmos 2000 Award and the Nova Science Fiction Award in Italy, and nominated for a Hugo Award, MISSION EARTH is an epic narrative of a secret invasion of Earth as seen-and vividly recounted -- by the aliens who, unrecognized, already live and work among us. It is a novel crowded with sharply memorable characters and with places and events cloaked in splendor, menace and mystery: Palace City, Joy City, the forbidden prison fortress of Spiteos, the violent fall of the Voltar Confederation.
The Voltar Confederation has a long-range plan to use Earth as a strategic staging area in its continuing conquest of the galaxy. However, with the discovery that Earth is being destroyed by pollution, drugs and other menaces, Combat Engineer Jettero Heller is sent on a top-secret mission to save the planet from self-destruction. Unknown to Heller, another Voltarian faction (the Coordinated Information Apparatus) has secretly been using Earth as a supply base for drugs. It dispatches its own counter mission to thwart Heller's plans.
Pages of Villainy Victorious :