The Silent Patient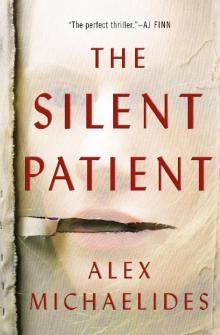 Genre: Other
Published: 2019
View: 3570
Read Online
Read The Silent Patient Storyline:
"That rarest of beasts: the perfect thriller. This extraordinary novel set my blood fizzing—I quite literally couldn't put it down. I told myself I'd just dip in; eleven hours later—it's now 5:47 a.m.—I've finished it, absolutely dazzled."
—A. J. Finn, #1 New York Times bestselling author of *The Woman in the Window*
Promising to be the debut novel of the season The Silent Patient is a shocking psychological thriller of a woman's act of violence against her husband—and of the therapist obsessed with uncovering her motive…
Alicia Berenson's life is seemingly perfect. A famous painter married to an in-demand fashion photographer, she lives in a grand house with big windows overlooking a park in one of London's most desirable areas. One evening her husband Gabriel returns home late from a fashion shoot, and Alicia shoots him five times in the face, and then never speaks another word.
Alicia's refusal to talk, or give any kind of explanation, turns a domestic tragedy into something far grander, a mystery that captures the public imagination and casts Alicia into notoriety. The price of her art skyrockets, and she, the silent patient, is hidden away from the tabloids and spotlight at the Grove, a secure forensic unit in North London.
Theo Faber is a criminal psychotherapist who has waited a long time for the opportunity to work with Alicia. His determination to get her to talk and unravel the mystery of why she shot her husband takes him down a twisting path into his own motivations—a search for the truth that threatens to consume him....
**Review
"Superb... This edgy, intricately plotted psychological thriller establishes Michaelides as a major player in the field."
―Publisher's Weekly, starred review
"The Silent Patient sneaks up on you like a slash of intimidating shadow on a badly lit street. Alex Michaelides has crafted a totally original, spellbinding psychological mystery so quirky, so unique that it should have its own genre. I read it in two nights and savored every luscious word, every grim encounter, every startling twist. The pages will burn with the friction from your hands turning them."
―David Baldacci
"Smart, sophisticated storytelling freighted with real suspense―a very fine novel by any standard."
―Lee Child
"One of the most spellbinding psychological thrillers we've read in years. Beautifully written, exquisitely plotted, the story relentlessly pulls you in and doesn't let you go until the last shocking (and yet brutally logical) twist. This is an absolutely fantastic and extraordinary read."
―Douglas Preston and Lincoln Child, #1 New York Times bestselling authors of the Pendergast series
"Alex Michaelides has written one of the best psychological thrillers I have ever read. The Silent Patient is a swarming, paranoid nightmare of a novel with an ending that is destined to go down as one of the most shocking, mind-blowing twists in recent memory."
―Blake Crouch, New York Times bestselling author of *Dark Matter*
"This is a wonderful new voice. Listen to it. It's about to tell you a thrilling and scary story. The Silent Patient paints a picture, crawling into your soul in the very best way. Take a chance."
―Brad Meltzer, author of *The Escape Artist*
"Dark, edgy, and compulsively readable."
―*Library Journal*
"The Silent Patient isn't quiet at all. It loudly announces that Alex Michaelides is a new talent in the field of psychological thrillers."
―*Shelf Awareness*
"Unputdownable, emotionally chilling, and intense, with a twist that will make even the most seasoned suspense reader break out in a cold sweat."
―*Booklist*
About the Author
Alex Michaelides was born in Cyprus in 1977 to a Greek-Cypriot father and an English mother. He studied English literature at Cambridge University and got his MA in screenwriting at the American Film Institute in Los Angeles. The Silent Patient is his first novel.
Pages of The Silent Patient :