Not Until You Part VI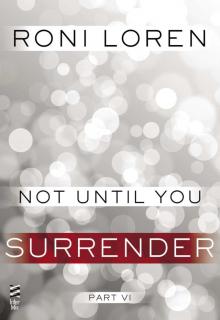 by Roni Loren
Genre: Romance
Published: 2013
Series: Loving on the Edge
View: 293
Read Online
Read Not Until You Part VI Storyline:
From the author of the Loving on the Edge novels comes a story of a good girl who discovers that once you dare to cross some lines, it's hard to turn back…
On the night of her graduation, innocent veterinary student Cela decides to play a game of Never Have I Ever with the two hot neighbors she's been quietly crushing on for the last year. Always the prim and proper student, Cela thinks she's earned a wild night before she has to move back home under the watchful gaze of her family. But what starts out as a simple game is about to take a very sensual turn...
Ian Foster is tired of playing games. With his membership to The Ranch, an exclusive BDSM resort, and a musician roommate named Pike who brings home groupies with a taste for ménage, Foster has a life most guys would kill for. But lately, his need for dominance is no longer satisfied via one-night stands. He craves the full surrender of one woman—a submissive of his own.
But when his quiet, sweet-as-sugar neighbor shows up at their door with a bottle of tequila and an invitation, Foster decides he and Pike may have time for one more fling…
*This will be an e-serial, releasing in 8 parts.
Pages of Not Until You Part VI :