I Spit on Your Graves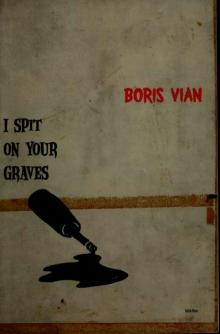 by Boris Vian
Genre: Mystery
Published: a long time ago
View: 446
Read Online
Read I Spit on Your Graves Storyline:
Boris Vian was a novelist, jazz musician, jazz critic, poet, playwright, a friend of Miles Davis, Duke Ellington, Raymond Queneau, Jean Cocteau, Louis Malle, Jean Paul Sartre, and numerous others of forties and fifties Parisian cultural society. He was also a French translator of American hard-boiled crime novels. One of his discoveries was an African-American writer by the name of Vernon Sullivan. Vian translated Sullivan's I Spit on Your Graves. The book is about a 'white Negro' who acts out an act of revenge against a small Southern town, in repayment for the death of his brother, who was lynched by an all white mob. Upon its release, I Spit on Your Graves became a bestseller in France, as well as a instruction manual for a copycat killer whose copy of I Spit on Your Graves was found by the murdered body of a prostitute with certain violent passages underlined. A censorship trail also came up where Sullivan as the author was held responsible for the material. It was later disclosed that Vian himself wrote the book and made up the identity of Vernon Sullivan!
This edition is a translation by Vian, that was never published in America. I Spit on Your Graves is an extremely violent sexy hard-boiled novel about racial and class prejudice, revenge, justice, and is itself a literary oddity due to the fact that it was written by a jazz-loving white Frenchman, who had never been to America.
Pages of I Spit on Your Graves :