Three to Ride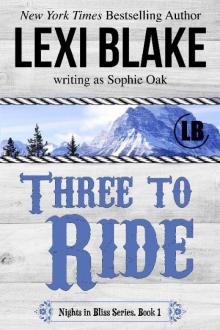 by Sophie Oak
Genre: Romance
Published: 2010
Series: Nights in Bliss Colorado
View: 1704
Read Online
Read Three to Ride Storyline:
[Menage Amour: Erotic Cowboy Menage a Trois Romance, M/F/M, bondage]
Rachel Swift is a woman on the run. Max and Rye Harper are just the men to catch her. A stalker sent Rachel's world reeling. Now she's running for her life, and Bliss, CO, seems like the perfect place to hide. Bliss is a strange little town, filled with artists, nudists, and the occasional conspiracy nut. It's a good place to start over.
Horse trainer Max and Sheriff Rye gave up on their dream of finding one perfect woman to share long ago. Rachel walks in, and they're both in love and fighting their true natures. When Rachel's past catches up with her, all of Bliss is in danger. Can Rachel stand up to the man who took everything? Rachel is done running. It's time for her to get back in the saddle and ride.
** A Siren Erotic Romance
Pages of Three to Ride :