The Viking's Captive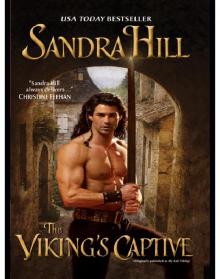 by Sandra Hill
Genre: Romance
Published: 2002
View: 849
Read Online
Read The Viking's Captive Storyline:
Author's Note: This is a revised reissue of My Fair Viking which was published in April 2002 by Leisure Books.
Tyra, Warrior Princess
She is too tall, too loud, too fierce to be a good catch. But her ailing father has decreed that her four younger sisters cannot be wed 'til Tyra consents to take a husband. Alas, with no suitors begging for her hand, it looks as if the sisters will all remain virgins.
Then a journey to save her father's life brings Tyra face to face with Adam the Healer. A god in human form, he's tall, muscled, perfectly proportioned. Here is the physician who could cure her father, and the lover who could finally seduce her to his bed furs.
Too bad Adam refuses to fall in with her plans. Holy Runes! What's a lady to do but truss him up, toss him over her shoulder, and sail off into the sunset to live happily ever after.
Pages of The Viking's Captive :