[The Legend of ZERO 01.0] Forging Zero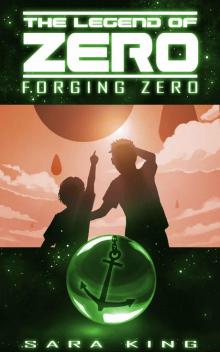 by Sara King
Genre: Other
Published: 2013
Series: The Legend of ZERO
View: 321
Read Online
Read [The Legend of ZERO 01.0] Forging Zero Storyline:
THE OVERWHELMINGLY POPULAR #1 BESTSELLER!!!
*ONE OF THE HIGHEST-RATED SCIENCE FICTION THRILLERS ON AMAZON!!
For lovers of sci-fi thrillers, alien invasion stories, space opera, and sprawling first contact science fiction, this is an unforgettable post-apocalyptic epic about perseverance and survival in a harsh new world where humanity is just another item on the menu...
First Contact doesn't go as anyone expected. Now they own us.
The Legend of ZERO: Forging Zero is the epic journey of 14-year-old Joe Dobbs in a post-apocalyptic universe following a massive galactic empire's invasion of Earth. The oldest of the children drafted from humanity's devastated planet, Joe is impressed into service by the alien Congressional Ground Force—and becomes the unwitting centerpiece in a millennia-long alien struggle for independence. Once his training begins, one of the elusive and prophetic Trith appears to give Joe a spine chilling prophecy that the universe has been anticipating for millions of years: Joe will be the one to finally shatter the vast alien government known as Congress. And the Trith cannot lie.…
But first Joe has to make it through bootcamp.
PARASITE PUBLICATIONS ~ Character Sci-Fi
**About the Author
ABOUT THE AUTHOR (a.k.a. Join My Alaskan Army) Email me. No, seriously, email me.
[email protected]
. Go do it. Right now. I love keeping my ear to the very heart of the publishing industry—which means I have to talk to you. I think entertaining and inspiring others is the most important thing about writing, and if I'm doing my job right, people will actually want to tell me what they think. So, dammit, if you were entertained or inspired, I wanna hear from you. I'm utterly freakin' serious. In case you're still not convinced, consider this: I'm a lifelong Alaskan. We do things differently here. With the roving grizzly bears (yes, I live in the Bush, not like those pussies in town) and my closest neighbor a mile away, it gets kinda lonely when it's just me and my computer and a big, vast wilderness out my back door. I want to talk to the people who are reading my books, because who the hell else am I going to talk to?! In case you're concerned about writing to a complete stranger, I assure you I'm totally approachable, in my random, quirky, too-much-time-without-sun kind of way. I've spent my entire life (starting at three years old!) working on writing as an art form, and I've poured my heart and soul into the twenty (ish) books I've written, so you can be damn sure I want feedback. I mean, putting together these (utterly brilliant, totally awesome) masterpieces and then getting nothing but silence is like building the Eiffel Tower and having people go…meh. So shoot me an email at
[email protected]
and let me know your thoughts on the book! I respond to every email I get (though sometimes it takes longer than others). Oh, and friend me on Facebook at https://www.facebook.com/kingfiction (authors need friends, too) and check my Author Page https://www.facebook.com/sknovel for the latest writerly news and updates. Or, even better, hop on over to Amazon and check out my other character-driven series, like Outer Bounds: http://www.amazon.com/dp/B00IO7QAGO/ or Millennium Potion: http://www.amazon.com/dp/B007W6RBSE/ or, heck, even my Alaskan Paranormal/Fantasy series Guardians of the First Realm: http://www.amazon.com/dp/B0073WZ01C/ to see some of my other compelling characters in action! 
Pages of [The Legend of ZERO 01.0] Forging Zero :