Jaded Hearts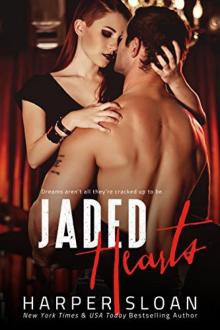 by Harper Sloan
Genre: Contemporary
Published: 2016
View: 2072
Read Online
Read Jaded Hearts Storyline:
Signing with Brighthouse Records was supposed to be everything we ever wanted—our better life. Our chance at everything we never had but always wanted. All our dreams would finally come true and we were on top of the world. It was our chance at the happiness we never had in life.
Our every desire was at our fingertips and the power of that feeling was all consuming. But then it took every dream we thought would come true and it slapped us in the face with the cold hard reality.
Dreams were just that…something that floated on the cusp of untouchable, taunting you with every graze of your fingertips before slipping even further away.
**Happiness…that feeling is a joke.**
In the end it became painfully obvious that each of us would always have each other, but we would forever be alone.
*Jaded Hearts is the first book in the Loaded Replay series.*
Pages of Jaded Hearts :