Golden Girl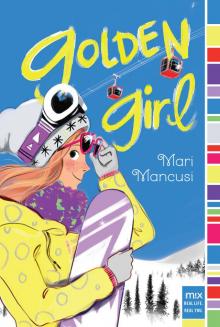 by Mari Mancusi
Genre: Young Adult
Published: 1999
View: 901
Read Online
Read Golden Girl Storyline:
Cold meant snow. Snow meant snowboarding. Snowboarding meant everything.
Lexi Miller--aka "Golden Girl"--is Queen of the 'Cross--snowboard cross, that is. As the most promising student at the elite ski and snowboard school, Mountain Academy, she is a sure lock for the Olympic-level trial team and has the most promise for a future Olympic gold medal the school has ever seen.
Until a freak fall during a snowboard-cross competition crushes her dreams and puts her future on hold.
One year after her disastrous fall, Lexi is back at Mountain Academy and attempting a comeback. But everything has changed—her best friend is suddenly friends with her arch-enemy on and off the slopes, and everyone seems to be rooting for her to fail.
Everyone except Logan Conrad that is. Logan is a "staff rat" whose mother works at the school and he believes snowboarding should be for fun—not sponsors. With his help and friendship, Lexi begins to discover a whole new world outside her favorite sport and even a new passion for music.
But Lexi's dad--who just happens to be her coach and lead instructor at Mountain Academy--has strong opinions on his daughter's future. Can Lexi figure out how to balance her dreams with the dreams of her dad's--and find out what exactly happened on that mountain a year ago?
Pages of Golden Girl :