Tailored for Trouble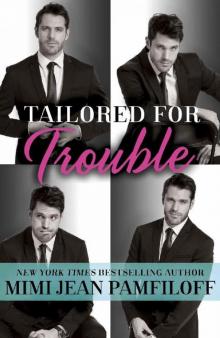 Genre: Romance
Published: 2016
View: 1234
Read Online
Read Tailored for Trouble Storyline:
A sassy, sexy, laugh-out-loud rom-com between the hottest man never to be tamed and the woman crazy enough to try
SHE WANTS TO CHANGE THE WORLD.
Taylor Reed is no stranger to selfish, uncaring CEOs. She was fired by one, which is why she has created her own executive training program—helping heartless bosses become more human. So Taylor shocks even herself when she agrees to coach Bennett Wade, the cutthroat exec who got her unceremoniously canned. She'd love to slam the door in his annoying but very handsome face, but the customers aren't exactly lining up at her door. Plus, this extreme makeover will give Taylor the golden opportunity to prove that her program works like a charm.
HE WANTS TO BUY IT.
Bennett Wade is many things—arrogant, smug, brusque—but trusting isn't one of them. Women just seem to be after his billions. So when he hires Taylor Reed, he has no desire to change. Bennett is trying to win over the feminist owner of a company he desperately wants to buy, but something about the fiery Taylor thaws the ice around his heart, making Bennett feel things he never quite planned on. And if there's one thing Bennett can't stand, it's when things don't go according to plan.
They are a match tailor-made for trouble.
Pages of Tailored for Trouble :