By Blood We Live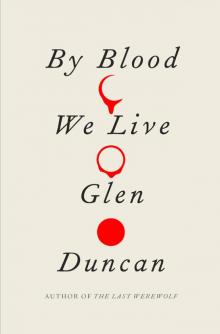 by Glen Duncan
Genre: Fiction
Published: 2014
View: 1027
Read Online
Read By Blood We Live Storyline:
From the author of the best sellers The Last Werewolf and Talulla Rising, the hair-raising conclusion to the saga that has galvanized readers' imaginations: an electrifying, startlingly erotic love story that gives us the final battle for survival between werewolves and vampires, and one last incisive--brilliantly ironic--look at what it means to be, or to not be, human.
Talulla has settled into an uneasy equilibrium: with her twins at her side and the devotion of her lover Walker, it's a normal family life--except for their monthly transformation into werewolves hungry for human flesh. But even this tenuous peace is interrupted for Talulla by nagging thoughts of Remshi, the 20,000-year-old vampire who haunts her dreams. In turn Remshi can't escape the feeling that he knows Talulla from years before (many, many, many years). They have their distractions: Talulla is being pursued by a fanatical Christian cult, and Remshi is following the trail of reckless feedings by a newly turned vampire. But, as the novel unfurls, they are inextricably drawn to each other--and toward the moment when an ancient prophecy may finally come to pass--in this tale of pulse-pounding supernatural suspense.
Pages of By Blood We Live :