From a Certain Point of View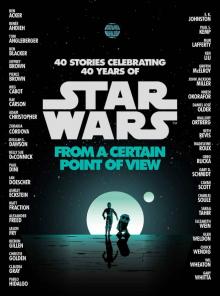 by Renee Ahdieh
Genre: Young Adult
Published: 2017
View: 1596
Read Online
Read From a Certain Point of View Storyline:
40 Years. 40 Stories.
In honor of the 40th Anniversary of Star Wars: A New Hope, this unique anthology features Star Wars stories by bestselling authors, trendsetting artists, and treasured voices from Star Wars' literary history. Over 40 authors have lent their unique vision to 40 "scenes," each retelling a different moment from the original Star Wars film, but with a twist: every scene is told from the point of view of a seemingly minor character. Whether it's the X-wing pilots who helped Luke destroy the Death Star or the stormtroopers who never did find the droids they were looking for, Star Wars: From A Certain Point of View places the classic movie in a whole new perspective celebrates the influence and legacy of the unparalleled cultural phenomenon, Star Wars.
Contributors include:
Ben Acker and Ben Blacker - Renee Ahdieh - Tom Angleberger - Meg Cabot - Rae Carson - Zoraida Cordova - Delilah S. Dawson - Paul Dini - Alexander Freed - Jason Fry - Christie Golden - Claudia Gray - E. K. Johnston and Ashley Eckstein - Paul Kemp - Mur Lafferty - Ken Liu - Griffin McElroy - John Jackson Miller - Nnedi Okorafor - Daniel Jose Older - Mallory Ortberg - Madeleine Roux - Gary D. Schmidt - Cavan Scott - Sabaa Tahir - Glen Weldon - Chuck Wendig - Gary Whitta - And more!
Pages of From a Certain Point of View :