Iron Chamber of Memory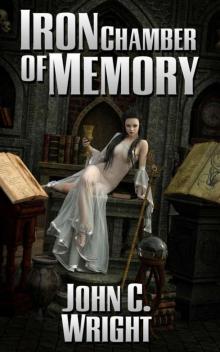 Genre: Science
Published: 2016
View: 1047
Read Online
Read Iron Chamber of Memory Storyline:
The small island of Sark in the English Channel is the last feudal government in Europe. By law, no motor vehicles run on the road, and no lights burn at night. Only the lord of the island may keep hounds.Into the strange, high house of Wrongerwood wanders Hal Landfall, penniless graduate student at Magdalen College, looking for his missing friend Manfred Hathaway, who has just inherited the lordship, the house, and the island. What he finds instead is the lovely, green-eyed Laurel, a beautiful girl from Cornwall who is Manfred's wife-to-be.
There is said to be a haunted chamber in the house, erected by Merlin in ancient days, where a man who enters remembers his true and forgotten self. When Hal and Laurel step in, they remember, with fear and wonder, a terrible truth they must forget again when they step outside.
John C. Wright is one of the living grandmasters of science fiction and the author of THE GOLDEN AGE, AWAKE IN THE NIGHT LAND, and CITY BEYOND TIME: TALES OF THE FALL OF METACHRONOPOLIS, to name just three of his exceptional books. He has been nominated for the Nebula Award, and in 2015, he was nominated for a record 5 Hugo Awards.
Pages of Iron Chamber of Memory :