Beneath the Surface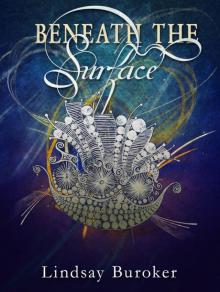 Genre: Fantasy
Published: 2013
View: 929
Read Online
Read Beneath the Surface Storyline:
All Sergeant Evrial Yara wanted was to protect the young emperor from those plotting to kill him. Joining forces with a group of notorious outlaws wasn't part of the plan, especially not when one of them is determined to charm her out of her uniform at every turn. Working with the criminals might have been worth it if their efforts had saved the emperor, but it seems he's not the rightful heir to the throne.... Evrial may have thrown away her career for nothing.
To make matters worse, fate isn't going to give her time to calmly decide what to do next. While she's traveling back to the capital with Amaranthe Lokdon and the rest of the outlaws, Evrial uncovers artifacts that have been smuggled aboard their steamboat. They're deadly enough to threaten the entire city, perhaps the entire empire. Oh, and they could kill everybody on board the boat too. These scenarios just weren't discussed in the Enforcer Academy.
This 56,000-word novella takes place between Books 5 and 6 in the Emperor's Edge series.
Pages of Beneath the Surface :