Push and Shove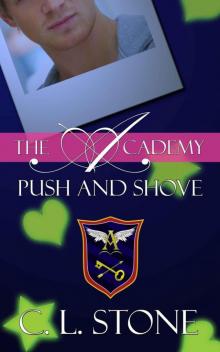 by C. L. Stone
Genre: Young Adult
Published: 2014
Series: The Academy
View: 3655
Read Online
Read Push and Shove Storyline:
Sang Sorenson struggles with her growing feelings when the Academy boys take her in and draw her closer into their world. They work together to uncover the true secrets happening at Ashley Waters High School, where Principal Hendricks will stop at nothing to take them all down.
Adding to their complications, Nathan's father shows up, and he's just as ruthless and violent as ever, beating up on Nathan. Sang offers Nathan refuge in her home, but Marie is fed up with the boys. She wants them out--all of them—and wants them to take Sang with them. Where will Sang go? What will happen to Nathan? And what about Mr. Hendrick's spies, watching all of them?
Kota, Victor, Silas, Nathan, Gabriel, Luke and North will have to focus to get out of this mess, but with Sang assisting them, they're struggling to keep control. They all promised not to make a move on Sang unless she initiates, but the tension is driving them all to distraction. With the help of Dr. Green and Mr. Blackbourne, they will have to stay strong and engaged. But A first kiss is imminent, and will cost them all more than they could ever have imagined.
Pages of Push and Shove :