Cotillion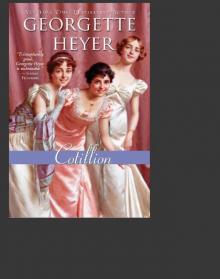 Genre: Romance
Published: a long time ago
View: 2620
Read Online
Read Cotillion Storyline:
Kitty Charing can inherit a fortune from her irascible great-uncle Matthew when she marries one of her cousins. Kitty is not wholly averse, if the right nephew proposes. Unfortunately, Kitty has set her heart on Jack Westruther, a confirmed rake.
To make him jealous and to see a little more of the world, Kitty convinces cousin Freddy Standen to pose as her fiance. In London with his family, she hopes to render the elusive Jack madly jealous.
New friends embroil her in their romantic troubles, sprinkling witty banter with Parisian phrases. Her French cousin, Camille, a professional gambler, has won the heart of Olivia, in turn the object of Jack's dishonorable intentions. Doltish cousin Lord Dolphinton has fallen for a merchant's daughter in conflict with his mother. Kitty herself wonders who is really right for her.
Pages of Cotillion :