Deadly Night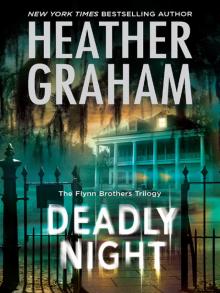 Genre: Mystery
Published: 2007
Series: Flynn Brothers
View: 1357
Read Online
Read Deadly Night Storyline:
The Flynn brothers have inherited more than a New Orleans plantation. They've inherited a ghostly presence -- and a long-kept secret.
Aidan Flynn, a private investigator and eldest of the Flynn brothers, scoffs at the haunted-house rumors -- especially since Kendall Montgomery, a tarot card reader who has been living in the mansion, is the one to tell him the tale of a woman in white. But when he finds a human bone on the grounds and another by the river, Aidan delves into the dark history of the Flynn plantation.
Forced together to uncover the truth, Aidan and Kendall realize that a serial killer whose victims seem to vanish into thin air has long been at work -- and that their own fates are about to be sealed forever unless they believe in the unbelievable.
Pages of Deadly Night :