Shifter Overdrive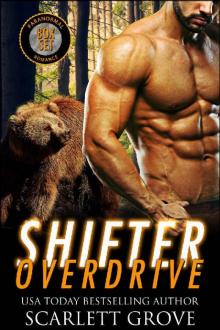 Genre: Romance
Published: 2017
View: 2965
Read Online
Read Shifter Overdrive Storyline:
Bear Witness (Bear Wardens #1)
Can They Find Love With A Murderer On The Loose? When curvy Candice Gray witnesses a grizzly bear shot in the woods, she doesn't expect to be thrust into the middle of a murder investigation. ***Smoking hot, game warden, Wyatt McCloud isn't a homicide detective, but that's exactly what he has to be when a shifter turns up dead in the forest he patrols...
Bearly Believing (Bear Wardens #2)
An infuriatingly sexy man... When research scientist and ardent environmentalist Summer Madison finds a dead grizzly in the forest, she's certain a nearby copper mine is to blame. Game warden Chance Baker isn't convinced, however. Summer's sure she can make him see reason... ***if he'll just stop melting her circuits for two seconds!
His To Bear (Bear Wardens #3)
A grieving grizzly... Bear shifter Brody Oberon is stunned to find his best friend near death, the victim of foul play. Filled with rage, the last thing Brody expects is to meet his fated mate at the hospital. The curvy doctor is everything he's ever wanted... ***at the worst possible time!
Unbearably Stranded (Mystic Harbor #1)
In her quest to find the last ingredient to her summoning spell, Vivian meets Laurence, the broody grizzly bear fisherman. Laurence has no interest in helping a witch with her magic, but Vivian convinces him to take her out to a small island out at sea. Caught in a magical storm, Vivian and Laurence are shipwrecked. Coming together to survive in spite of their differences, Laurence and Vivian heat up the cold nights while stranded on the island!
Her Two Alphas (Mystic Harbor #2)
Curvy Lucy Zimmer is having trouble at the office. Her boss can't seem to keep his hands off. Confused and frightened, Lucy decides to take a day trip to the coast to clear her head. While hiking an unfamiliar trail, she gets lost. Just when she thinks she'll be eaten by wolves, two gorgeous men walk out from between the trees!
Cat Scratch Fever (Mystic Harbor #3)
After curvy magazine editor Makayla Phillips is run off an icy road, she is caught in the snow storm of the century. With a head wound and a badly sprained ankle, Makayla is lucky that mountain man Ronan Harding found her. They are from worlds so far apart, being together is impossible. Will they meet in the middle or will they lose what they want most?
His Lion Blood (Mystic Harbor #4)
When curvy hafling vampire, Isabella Amador, saunters into mountain lion shifter Ashton Harding's tattoo shop, he can't get enough of her sexy scent. Unfortunately, there's a taboo against fraternizing with vampires, making Isabella strictly off limits!
Dragon Princes Of Endor; Complete Collection; Parts #1 To #4 (Dragon Princes Of Endor #1)
After leaving everything behind, Dani Storm takes to the road in an RV. When she steps into a cave, deep in the forest, her life is changed forever. Conyac and Trav are dragon shifter princes with a problem. There are no female dragons left in their world. Without a queen, neither can become king!
Bear His Love (Midnight Sun Shifters #1)
In the wilds of Alaska, anything is possible. Even happily ever after. Ginger Allen has come to Alaska to scatter her father's ashes - and follow a treasure map he drew for her on his deathbed. First, though, she has to hire an experienced backcountry guide to take her to her father's remote property...
Bear His Baby (Midnight Sun Shifters #2)
Ella May is coming home to Juneau for the first time in a year and a half. With a baby in tow and running for her life, pride is not an option. When Tate's fated mate left him a year and a half ago, he didn't believe he'd ever recover. Maybe it had been a mistake to keep the truth from her for so long, but he'd only been trying to protect her!
Warrior Witch And Raven (West Coast Witches #1)
Everyone has a talent. Mine is death. I'm Olivia Fanning. It's been five years since I got my father killed. My family hates me. And Raven? I can't even think about facing him again!
Spirit Moon; Complete Collection; Parts #1 To #3 (Spirit Moon #1)
Jane is a recent college grad with a strange gift- she sees things in her dreams. After she wakes up from a dream of her boyfriend cheating, she realises she's in need of a change...
Pages of Shifter Overdrive :