Yours All Along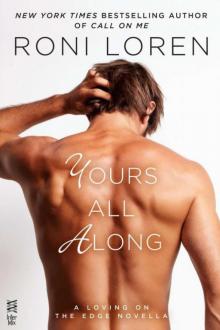 by Roni Loren
Genre: Romance
Published: 2015
Series: Loving on the Edge
View: 597
Read Online
Read Yours All Along Storyline:
The new Loving on the Edge romance from the New York Times bestselling author of Nothing Between Us turns on the heat between two men who wonder how much they're willing to risk in the name of love.
Four years after an accident tore their friendship apart, Hunter and Devon are living separate lives. Hunter is now the all-America hero—a congressman's son and a pro pitcher in Houston preparing to marry his beauty-queen girlfriend. Devon is in Dallas running a new restaurant.
But when Hunter unexpectedly shows up in Devon's bar, Devon can't turn him away. Damn it if the man isn't still gorgeous. But engaged? Hell no. All he's doing for Devon is bringing back memories of their college-roommate days, and the night their relationship went too far. Turns out Hunter has never forgotten it either.
Now Devon can't help but be drawn in all over again by the only guy who's ever gotten close enough to break his heart. Maybe one more night together would be enough for both of them to finally move on. Or maybe one night will change everything…
Pages of Yours All Along :