Madam, Will You Talk?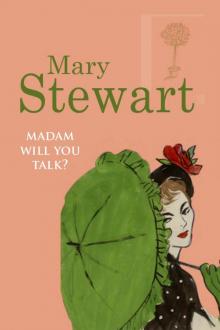 by Mary Stewart
Genre: Fiction
Published: a long time ago
View: 1025
Read Online
Read Madam, Will You Talk? Storyline:
Widow Charity Selbornehad been greatly looking forward to her driving holiday through France with her old friend Louise - long, leisurely days under the hot sun, enjoying the beauty of the parched Provencal landscape. But when Charity arrived at a plush resort in the picturesque French resort town of Avignon, she had no way of knowing that she was to become the principal player in the last act of a strange and brutal tragedy. Most of it had already been played. There had been love--and lust--and revenge and fear and murder.
Very soon her dreams turn into a nightmare, when by befriending a terrified boy and catching the attention of his enigmatic, possibly murderous father, Charity has inadvertently placed herself center stage. She becomes enmeshed in the schemes of a gang of murderers, one of them a man with whom she is rapidly falling in love... And now the killer, with blood enough on his hands, is waiting in the wings.
Pages of Madam, Will You Talk? :