Mountains Beyond Mountains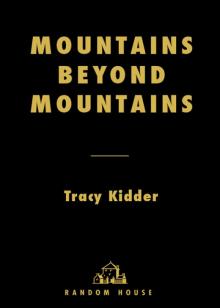 by Tracy Kidder
Genre: Literature
Published: 2003
View: 1422
Read Online
Read Mountains Beyond Mountains Storyline:
Tracy Kidder is a winner of the Pulitzer Prize and the author of the bestsellers The Soul of a New Machine, House, Among Schoolchildren, and Home Town. He has been described by the Baltimore Sun as the "master of the non-fiction narrative." This powerful and inspiring new book shows how one person can make a difference, as Kidder tells the true story of a gifted man who is in love with the world and has set out to do all he can to cure it.
At the center of Mountains Beyond Mountains stands Paul Farmer. Doctor, Harvard professor, renowned infectious-disease specialist, anthropologist, the recipient of a MacArthur "genius" grant, world-class Robin Hood, Farmer was brought up in a bus and on a boat, and in medical school found his life's calling: to diagnose and cure infectious diseases and to bring the lifesaving tools of modern medicine to those who need them most. This magnificent book shows how radical change can be fostered in situations that seem insurmountable, and it also shows how a meaningful life can be created, as Farmer—brilliant, charismatic, charming, both a leader in international health and a doctor who finds time to make house calls in Boston and the mountains of Haiti—blasts through convention to get results.
Mountains Beyond Mountains takes us from Harvard to Haiti, Peru, Cuba, and Russia as Farmer changes minds and practices through his dedication to the philosophy that "the only real nation is humanity" - a philosophy that is embodied in the small public charity he founded, Partners In Health. He enlists the help of the Gates Foundation, George Soros, the U.N.'s World Health Organization, and others in his quest to cure the world. At the heart of this book is the example of a life based on hope, and on an understanding of the truth of the Haitian proverb "Beyond mountains there are mountains": as you solve one problem, another problem presents itself, and so you go on and try to solve that one too.
"Mountains Beyond Mountains unfolds with the force of a gathering revelation," says Annie Dillard, and Jonathan Harr says, "[Farmer] wants to change the world. Certainly this luminous and powerful book will change the way you see it."
Pages of Mountains Beyond Mountains :