Lord Peter Views the Body: A Collection of Mysteries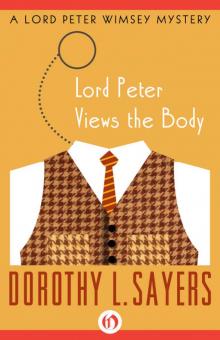 Genre: Mystery
Published: a long time ago
View: 1057
Read Online
Read Lord Peter Views the Body: A Collection of Mysteries Storyline:
Only Lord Peter has the wit to find the solution to these twelve baffling mysteries
Some aristocrats spend their lives shooting, but Lord Peter Wimsey is a hunter of a different kind: a bloodhound with a nose for murder. Before he became Britain's most famous detective, Lord Peter contented himself with solving the crimes he came across by chance. In this volume of short stories, he confronts a stolen stomach, a man with copper fingers, and a deadly adventure at Ali Baba's cave, among other conundrums. These mysteries tax not just his intellect, but his humor, knowledge of metallurgy, and taste for fine wines. It's not easy being a gentleman sleuth, but Lord Peter is the man for the job. This ebook features an illustrated biography of Dorothy L. Sayers including rare images from the Marion E. Wade Center at Wheaton College.
Pages of Lord Peter Views the Body: A Collection of Mysteries :