The Unpleasantness at the Bellona Club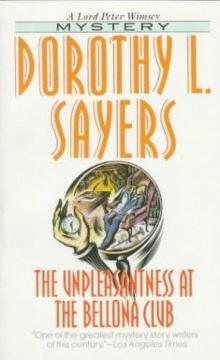 Genre: Mystery
Published: a long time ago
Series: Lord Peter Wimsey
View: 1425
Read Online
Read The Unpleasantness at the Bellona Club Storyline:
Lord Peter Wimsey bent down over General Fentiman and drew the Morning Post gently away from the gnarled old hands. Then, with a quick jerk, he lifted the quiet figure. It came up all of a piece, stiff as a wooden doll . . .
But how did the general die? Who was the mysterious Mr X who fled when he was wanted for questioning? And which of the general's heirs, both members of the Bellona Club, is lying?
Pages of The Unpleasantness at the Bellona Club :