About Average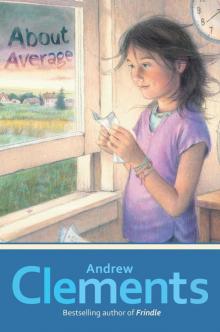 Genre: Childrens
Published: 2012
View: 476
Read Online
Read About Average Storyline:
Can average be amazing? A girl challenges herself to become extraordinary in the latest from bestselling author Andrew Clements.
Jordan Johnston is average. Not short, not tall. Not plump, not slim. Not blond, not brunette. Not gifted, not flunking out. Even her shoe size is average. She's ordinary for her school, for her town, for even the whole wide world, it seems.
     But everyone else? They're remarkable. She sees evidence everywhere—on TV, in  magazines, and even in her classroom. Tremendously talented. Stunningly beautiful. Wildly gifted. And some of them are practically her age!
     Jordan feels doomed to a life of wallowing in the vast, soggy middle. So she makes a goal: By the end of the year, she will discover her great talent. By the end of the year, she will no longer be average. She will find a way to become extraordinary, and everyone will know about it!
     Well known for his expert ability to relate to kids in a school setting, bestselling author Andrew Clements presents a compelling story of the greatest achievement possible—personal acceptance.
Pages of About Average :