The Heights of Perdition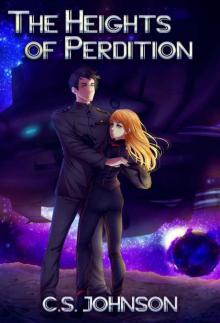 Genre: Fantasy
Published: 2017
View: 570
Read Online
Read The Heights of Perdition Storyline:
There is nothing Aeris St. Cloud wants more than to win her father's love and the acceptance of her family unit by joining the Military Academy at New Hope. But after she is captured by the fearsome space pirate, Captain Chainsword, Aerie is certain falling in love with her nation's arch enemy is the last possible way to earn their coveted esteem.
Driven by vengeance, Exton Shepherd never set out to save anyone. As he circles the war-torn world in his pirated starship, the Perdition, he only sees his father's ghost lurking around every corner and the looming darkness on the horizon. When Aerie unexpectedly tumbles into his life, he finds he cannot trust her, anymore than he can ignore her. But just like the raging war down on Earth, it's tempting to think he can ...
When the war ascends to the heights of the Perdition, Aerie's loyalty, and Exton's heart, are put to the test. But will love be enough to save them - and others - from certain destruction?
Pages of The Heights of Perdition :