The Last Of The Rings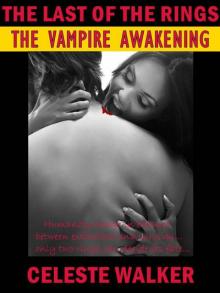 Genre: Other12
Published: 2012
Series:
View: 264
Read Online
Nessa, a beautiful brunette vampire falls in love with Thomas, a human who has
no idea of her true nature. Nessa's parents died over three hundred
years back and left her in charge of her sister Trina with two rings that
enabled them to walk in daylight. Unaware of what is in store for them,
the two siblings discover that the rings hold more to them than the ability to
make them walk in daylight. A new coven of ruthless vampires called the
Reigns are after the two rings to help them complete their collection which will
in turn give them the power to control all the vampires and rid the world of
mortals. In the fight to defend the rings, Nessa discovers the existence
of shapeshifters - The Areneas. Areneas join forces with Anti-Reign vampires to
keep them from achieving their goal. Through all this, Thomas gets
caught up in the fight and discovers Nessa's dark secret.
List Chapter or Page: