Heretic Dawn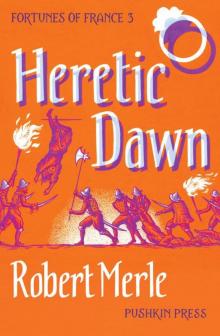 by Robert Merle
Genre: Literature
Published: 1980
View: 1446
Read Online
Read Heretic Dawn Storyline:
1572: Returning from his studies in Montpellier, Pierre de Siorac is ambushed by a jealous Périgord nobleman. A duel ensues, and Pierre must subsequently travel to Paris, to seek his pardon from the King. The capital city and the royal court are a disorienting new environment for Pierre: a world of sweet words and fierce pride, where coquettish smiles hide behind fans, and murderous intents behind elegant bows; a world of genteel tennis matches and deadly swordplay, whose elaborate social graces mask a simmering tension that will soon explode to engulf the entire city in one of history's most infamous bouts of butchery - and signal the dawn of a new and bloody era in the history of France.
Here, Pierre faces the greatest challenge of his young existence - to make his way through this deceptively dangerous milieu, to win a royal pardon, and finally to escape from Paris with his life, and the lives of his beloved companions, intact.
From the Trade Paperback edition.
Pages of Heretic Dawn :