The Good People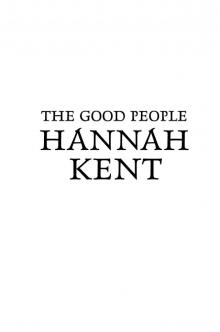 by Hannah Kent
Genre: Fiction
Published: 2016
View: 1019
Read Online
Read The Good People Storyline:
From the bestselling author of the multi-award-winning *Burial Rites*
County Kerry, Ireland, 1825.
The fires on the hills smouldered orange as the women left, pockets charged with ashes to guard them from the night. Watching them fade into the grey fall of snow, Nance thought she could hear Maggie's voice. A whisper in the dark.
"Some folk are born different, Nance. They are born on the outside of things, with a skin a little thinner, eyes a little keener to what goes unnoticed by most. Their hearts swallow more blood than ordinary hearts; the river runs differently for them."
Nóra Leahy has lost her daughter and her husband in the same year, and is now burdened with the care of her four-year-old grandson, Micheál. The boy cannot walk, or speak, and Nora, mistrustful of the tongues of gossips, has kept the child hidden from those who might see in his deformity evidence of otherworldly interference.
Unable to care for the child alone, Nóra hires a fourteen-year-old servant girl, Mary, who soon hears the whispers in the valley about the blasted creature causing grief to fall upon the widow's house.
Alone, hedged in by rumour, Mary and her mistress seek out the only person in the valley who might be able to help Micheál. For although her neighbours are wary of her, it is said that old Nance Roche has the knowledge. That she consorts with Them, the Good People. And that only she can return those whom they have taken...
Pages of The Good People :