The Singing Suspects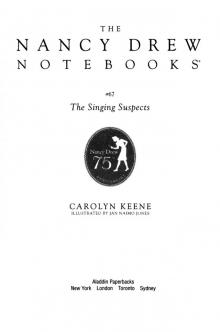 Genre: Childrens
Published: 2005
View: 280
Read Online
Read The Singing Suspects Storyline:
ROCK-STAR REWARD?
OR ROCK-STAR REGRET?
There's nothing better than tickets to an Eric Stanley concert -- at least that's what Nancy, George, and Bess think. That's why they enter the River Heights Singing Contest! First prize is a set of front-row seats to Eric's next show! Nancy and her friends practice hard for their performance and pick the perfect name for their gropu - The Spy Girlz. For a final touch, Riley McArthur even lets them borrow a pair of sunglasses that once belonged to Eric Stanley himself! But when the glasses go missing, the Spy Girlz might be out of the competition without even singing a note. This is one mega mystery that only a rock-star detective has a chance of cracking.
Pages of The Singing Suspects :