The Arrangement 13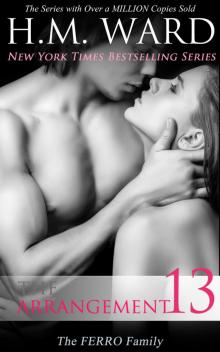 by H. M. Ward
Genre: Young Adult
Published: 2014
Series: The Arrangement
View: 447
Read Online
Read The Arrangement 13 Storyline:
THE SERIES WITH OVER A MILLION COPIES SOLD
*Volume 13 in the New York Times Bestselling Arrangement Serials*
Warning Sexual Content
Dark. Sexy. Epic. 'I can't lose her.' Those are the words that haunt me, the phrase that repeats in an endless loop in my mind. Images from my past collide with the present until I can no longer tell them apart. I try to hold onto what's real--hold onto her--Avery, but death is looming and it seems that no matter what I do, I can't save her.
*Get a glimpse into Sean Ferro's mind in this volume. The first two chapters are told from his point-of-view.
Genre: New Adult Romance
This story unfolds over multiple volumes approx. 125 pages each.
~The Arrangement Vol 1-13 are on sale now.~*
Pages of The Arrangement 13 :