Secrets in the Shadows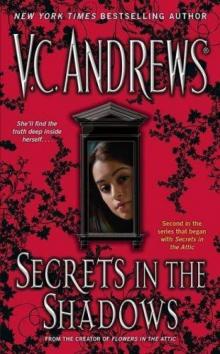 Genre: Horror
Published: 2008
Series: Secrets
View: 2219
Read Online
Read Secrets in the Shadows Storyline:
Everyone Says
Her Mother Was Crazy.
Is She Doomed to Repeat the Past?
Up in the attic, that's where Alice's mother used to escape to...and it's where, so Alice has been told, she plotted the murder of her own stepfather. Now, years later, with her mother locked away for life, the attic is where Alice finds comfort in her aloneness, writing poetry and painting pictures. When Alice finally finds the courage to come out of her shell, exchanging her dowdy looks for flattering clothes and makeup, her life completely opens up -- she even attends the prom with a cute, popular boy. But it's a night that turns quickly tragic -- sending her newfound happiness crashing down around her, and hurtling Alice into a shattering new life, one that leads her to a shocking reunion with the shadows she had fled.
From the imagination behind Flowers in the Attic comes a sensational new novel that spins a seductive web between fantasies and lies -- and uncovers the price for keeping secrets in the shadows.
Pages of Secrets in the Shadows :