Assassin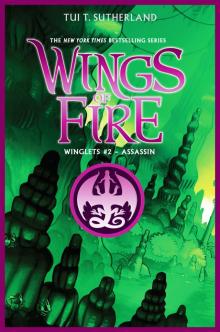 Genre: Young Adult
Published: 2015
View: 1033
Read Online
Read Assassin Storyline:
Fans of the New York Times bestselling Wings of Fire series won't want to miss this all-new story set in the dangerous and thrilling world of dragons!
Before the brightest night, the NightWings were plotting . . .
Deathbringer is ready to be the next assassin for the NightWings. If he can just convince them to send him along on one mission with his mother, Quickstrike, he'll prove that he can help the NightWings decide who wins the war between the dragon tribes of Pyrrhia.
But when their mission takes an unexpected turn, Deathbringer has a terrible choice to make . . . one that will change his path forever, and perhaps alter the course of the entire war . . .
Discover the New York Times bestselling Wings of Fire series with this ebook exclusive origin story! Author Tui T. Sutherland soars further into the world of Pyrrhia's dragons than ever before! In these brand-new short stories, fans will meet old friends and new ones, uncover shocking secrets, and learn more about the terrible challenges that will test all dragonkind!
Pages of Assassin :