Steelheart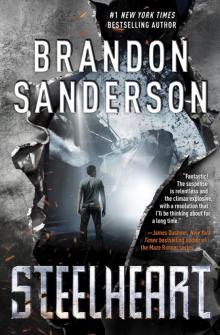 Genre: Science
Published: 2013
Series: Reckoners
View: 3762
Read Online
Read Steelheart Storyline:
The #1 New York Times bestseller from Brandon Sanderson, the #1 New York Times bestselling author of Oathbringer, coauthor of Robert Jordan's The Wheel of Time series, and creator of the internationally bestselling Mistborn trilogy. And don't miss the rest of the Reckoners series: Firefight and Calamity!
   Ten years ago, Calamity came. It was a burst in the sky that gave ordinary people extraordinary powers. The awed public started calling them Epics.
   Epics are no friends of man. With incredible gifts came the desire to rule. And to rule man, you must crush his will.
   Now, in what was once Chicago, an astonishingly powerful Epic named Steelheart has installed himself as emperor. Steelheart possesses the strength of ten men and can control the elements. It is said that no bullet can harm him, no sword can split his skin, and no fire can burn him. He is invincible. Nobody fights back . . . nobody but the Reckoners.
   A shadowy group of ordinary humans, the Reckoners spend their lives studying Epics, finding their weaknesses, and then assassinating them. And David wants in.
   When Steelheart came to Chicago, he killed David's father. For years, like the Reckoners, David has been studying, and planning, and he has something they need. Not an object, but an experience.
   He has seen Steelheart bleed.
   And he wants revenge.
Praise for the Reckoners Series:
#1 New York Times Bestselling Series
"Another win for Sanderson . . . he's simply a brilliant writer. Period." —Patrick Rothfuss, author of the New York Times and USA Today bestseller The Name of the Wind
"Action-packed." —EW.com
"Compelling. . . . Sanderson uses plot twists that he teases enough for readers to pick up on to distract from the more dramatic reveals he has in store." —The A.V. Club
**
Pages of Steelheart :