Cabin Fever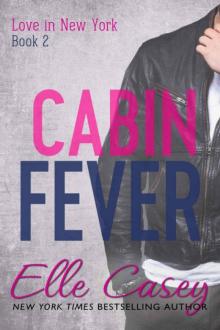 by Elle Casey
Genre: Fantasy
Published: 2015
View: 1108
Read Online
Read Cabin Fever Storyline:
NEW YORK TIMES and USA TODAY BESTSELLING AUTHOR, ELLE CASEY, brings readers book 2 of 3 in the contemporary romance LOVE IN NEW YORK series.
An artist's retreat turns into a snowbound intervention. Jeremy Oliver's on a one-man mission to forget, while Sarah Booker's on a one-woman mission to remember. What happens when two opposing forces like theirs get snowed in together? Cabin Fever ... Fireworks, tears, ghosts, and maybe even love.
LOVE IN NEW YORK SERIES READING ORDER
Love in New York: Book 1 (Lost and Found)
Love in New York: Book 2 (Cabin Fever)
Love in New York: Book 3 (Mister Fixit)
About this series: I'd never been to New York City before, but I knew I would love it and wanted to write a story that was set in the most exciting city in the world. So I hopped on a plane with my friend Susan and spent 5 whirlwind days there, soaking up the culture, seeing the sights and nailing down the scenes that would eventually end up in this series. Those of you familiar with New York City know what I'm talking about when I say you just can't beat Russ and Daughters' bagels, Central Park, Times Square, Brooklyn, and Yonnah Schimmels' knishes.
Pages of Cabin Fever :