Emily and Jackson Hiding Out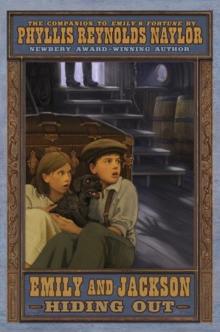 Genre: Childrens
Published: 2012
View: 485
Read Online
Read Emily and Jackson Hiding Out Storyline:
Due to demand for a companion story to the popular Emily's Fortune, Newbery Award winner Phyllis Reynolds Naylor has written another rootin' tootin' Wild West escapade that once again includes plucky orphans Emily and Jackson, dastardly villains, and comical cliffhangers.
Emily Wiggins is thrilled that she and her orphan friend Jackson have escaped the clutches of the Child-Catching Services and Emily's villainous uncle Victor. Emily and Jackson are now living happily with her loving aunt Hilda. But just a mighty mouth minute! Someone's snooping around for an orphan child on the run! He knows Jackson is hiding nearby and aims to get a reward for snatching him and sending him to work at a mill. What in leapin' livers should Jackson do? And Emily can't rest easy either, since some sort of creature is coming to their gate when Jackson and Emily are home alone. What in simmering succotash is that moving pile of dirt? Is it a heap of black rags, is it a dusty tumbleweed, no it's . . .
Now what in shaking shivers will happen next?
Pages of Emily and Jackson Hiding Out :