Masks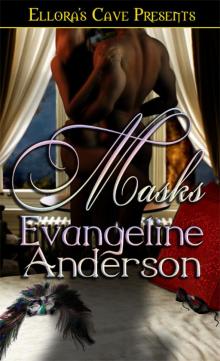 Genre: Romance
Published: 2005
View: 809
Read Online
Read Masks Storyline:
Chloe's identical twin sister Zoe wants a favor. She needs Chloe to dress up in her work clothes and meet an important client, pretending to be her. There's just one problem. Zoe isn't an investment banker as she's led everyone to believe - she's a dominatrix and her work clothes include a leather bustier, thigh-high boots and a feathered mask. There are three rules, according to Zoe - don't lose control of the situation, don't have sex with the client, and never take off the mask.
Shy, retiring Chloe has no idea how to go about dominating anyone. But that won't be a problem for long because the "client," Mark Jacobs, is a hot alpha male in a black leather mask of his own who prefers to take the lead when it comes to sex.
Soon Chloe is breaking all the rules for one night of forbidden passion but when she decides to take off her mask and asks Mark to do the same, she has no idea that the black leather he wears conceals a dark secret that may change her life forever.
Pages of Masks :