Riding Temptation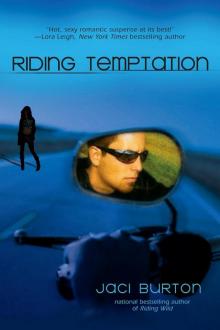 by Jaci Burton
Genre: Romance
Published: 2008
Series: Wild Riders
View: 2124
Read Online
Read Riding Temptation Storyline:
From the national bestselling author of ?wickedly naughty?(Romance Junkies) erotic romance comes the latest scorching Wild Riders novel.
He?s a biker working undercover for the Feds. She has reasons of her own for joining the Wild Riders. Together, they?re burning up the asphalt and tearing headlong into danger and passion?
The guys always thought of Jessie as their kid sister, except Diaz Delgado. The past few years he?s been watching her?and Jessie?s glad somebody is. Delgado?s dark good looks and killer body have tempted her since day one. Diaz?s unbrotherly urges have been hard to fight but the last thing he wants is to hurt Jessie. But when they both go undercover with killer survivalists, he knows it?ll be hard to keep his distance?especially when the mission takes a risky turn. Now Diaz has no choice but to open himself up to the one woman strong enough to take him on.
Pages of Riding Temptation :