Rock the Band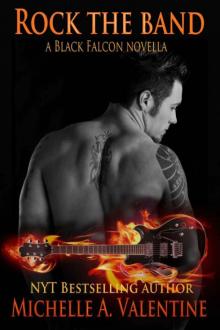 Genre: Romance
Published: 2013
View: 429
Read Online
Read Rock the Band Storyline:
After Noel Falcon professed his love to the one girl who truly holds his heart in the palm of her hand, he decides to try his damndest to keep Lane Vance in his life forever this time. There's no way he'll let her slip through his fingers again without a fight.
The instant they are together Noel begins to plot a way to ask his headstrong lady-love to be his wife, but every attempt to pop the question is foiled by a string of mishaps that prevents him from the perfect moment to get the job done before he goes back on tour with Black Falcon.
Distance is a bigger challenge than Noel expects, and the one-eyed beast of jealous raises its ugly head when Lane takes on a job working on an ad campaign for Embrace the Darkness. With Striker—a man that's made it clear in the past he's very interested in more then her business sense—lurking around her constantly, Noel wants to claim Lane now, more than ever.
ROCK THE BAND is a 27,000 word novella from the Black Falcon Series
Pages of Rock the Band :