Sharpe 3-Book Collection 4: Sharpe's Escape, Sharpe's Fury, Sharpe's Battle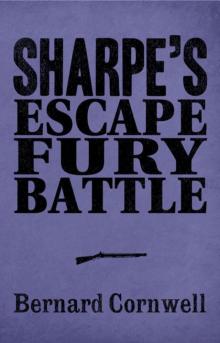 Genre: Historical
Published: 2011
View: 1728
Read Online
Read Sharpe 3-Book Collection 4: Sharpe's Escape, Sharpe's Fury, Sharpe's Battle Storyline:
Three classic Richard Sharpe adventures
Richard Sharpe and the Bussaco Campaign, 1811
It is 1810 and the French are making yet another attempt to invade Portugal. Facing them is a wasted land, stripped of food by Wellington's orders, and Captain Richard Sharpe.
Richard Sharpe and the Battle of Barrosa, March 1811
In the winter of 1811, the war seems lost. Spain has fallen to the French, except for Cadiz, now the Spanish capital and itself under siege. Inside the city walls an intricate diplomatic dance is taking place and Richard Sharpe faces more than one enemy.
Richard Sharpe and the Battle of Fuentes de Oñoro , May 1811
Richard Sharpe and his men, quartered in a crumbling Portuguese fort, are attacked by an elite French unit, led by an old enemy of Sharpe's, and suffer heavy losses.
Pages of Sharpe 3-Book Collection 4: Sharpe's Escape, Sharpe's Fury, Sharpe's Battle :