The Complete Horowitz Horror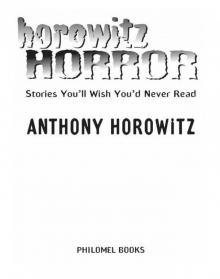 Genre: Childrens
Published: 2008
View: 1058
Read Online
Read The Complete Horowitz Horror Storyline:
New York Times Bestseller Anthony Horowitz's horror collections, now in one volume!
Welcome to a world where everything seems normal. At least, at first. But the sinister and truly terrifying lurk just beneath the surface. Like a bathtub with a history so haunted, no one dares get in it...or an ordinary-looking camera that does unspeakable things to its subjects...or an elevator filled with cannibals just waiting for their next victim to walk in. This wicked collection of eighteen macabre tales combining both Horowitz Horror and More Horowitz Horror will send shivers up your spine.
This edition includes;
1. Bath Night
2. Killer Camera
3. Light Moves
4. The Night Bus
5. Harriet's Horrible Dream
6. Scared
7. A Career in Computer Games
8. The Man with the Yellow Face
9. The Monkey's Ear
10. The Hitchhiker
11. The Sound of Murder
12. Burned
13. Flight 715
14. Howard's End
15. The Elevator
16. The Phone Goes Dead
17. Twist Cottage
18. The Shortest Horror Story Ever Written
Pages of The Complete Horowitz Horror :