The Event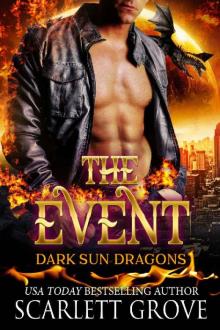 Genre: Romance
Published: 2017
View: 442
Read Online
Read The Event Storyline:
In a world transformed, their greatest power is each other
When the sun goes dark, magic comes back to the world … and so do ancient dangers. Nerdy librarian Lucia Amador wasn't expecting the world as she knew to end while she was out getting coffee. Now she's trapped in her apartment with her cat … until a dark-haired man with silver blue eyes appears with shocking news.
Alpha dragon Orion Silverdrake has lived without his magic for thousands of years. When his powers return, he detects the tantalizing scent of his late wife's magic. He follows the trail to Lucia's apartment, where he must convince the startled young woman that she's the reincarnation of a powerful witch.
The reunited couple have much more to deal with than getting reacquainted. An evil alliance of vampires and dragons called The Surge is determined to rule the planet and everyone on it. Can Orion and Lucia rekindle their relationship and use their powers to defeat their enemies and protect all the newly-awakened witches flocking to Orion's fortress?
Pages of The Event :