Conflict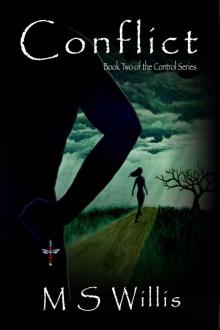 by M. S. Willis
Genre: Romance
Published: 2013
View: 938
Read Online
Read Conflict Storyline:
Content Warning - This is a new adult fiction with mature themes. It contains graphic sexual situations, mature language and explicit description of sexual violence.
Conflict is the second book in the Control series. This description contains spoilers for those who have not read book one in the series, entitled Control.
Private Investigator, Paige Stone has always appreciated the independence of her life, however, her world was pitched upside down when she and her roommates were attacked and nearly killed. As a result of the attack by Chris, Paige now finds herself dependent upon Daemon Pierce for a place to live as she hides from Chris. Paige has never lived with a man before and demands that Daemon consider her a "roommate" only, even though it goes against her own desires.
Strong-willed and arrogant, Daemon Pierce has been working hard to protect Paige from Chris and from herself. Letting go of his life as a womanizer, Daemon tries to prove to Paige that she can trust him, even though he refuses to enlighten her as to his past. Daemon struggles to comply with Paige's ridiculous demand to be "roommates" and quickly finds that he has fallen in love with the girl who does nothing but push him away.
Chris is still on the loose and Paige becomes impatient at the amount of time it is taking the authorities to apprehend him. Paige takes it upon herself to hunt Chris down, while still refusing to ask for Daemon's assistance. When Paige discovers a message left by Chris, she devices a plan to locate him while keeping Daemon in the dark as to her plans. Paige's emotional journey once again places her in dangerous situations and when secrets are revealed and decisions are made, Paige has no choice but to look deep within herself to see if she can finally trust the man who will stop at nothing to save her.
Pages of Conflict :