Mvp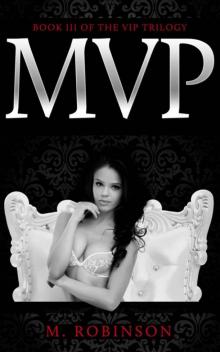 by M. Robinson
Genre: Romance
Published: 2014
View: 763
Read Online
Read Mvp Storyline:
Ysabelle
I love you.
Three words that can make or break you.
I thought I needed to find myself. I thought I wasn't happy. I thought I needed more out of life.
I didn't.
I'm more lost now than I was when I left. I have no answers, just endless amounts of questions. It was only a matter of time until the truth came to light. I never imagined it would change my entire life and everything I thought to be true.
It was all a game.
Except I wasn't a player.
I was a pawn.
Sebastian
The end.
Two words that have several meanings. I never thought I'd lose her. But did I ever really have her…
Or did VIP?
Can love conquer all?
WARNING: Sex/language. Mature readers only.
Pages of Mvp :