A Season in Hell & Illuminations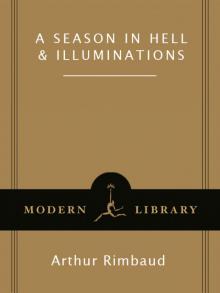 Genre: Other
Published: a long time ago
View: 274
Read Online
Read A Season in Hell & Illuminations Storyline:
Translated, edited and with an Introduction by Wyatt Mason
"The definitive translation for our time."
–Edward Hirsch
From Dante's Inferno to Sartre's No Exit, writers have been fascinated by visions of damnation. Within that rich literature of suffering, Arthur Rimbaud's A Season in Hell–written when the poet was nineteen–provides an astonishing example of the grapple with self.
As a companion to Rimbaud's journey, readers could have no better guide than Wyatt Mason. One of our most talented young translators and critics, Mason's new version of A Season in Hell renders the music and mystery of Rimbaud's tale of Hell on Earth with exceptional finesse and power.
This bilingual edition includes maps, a helpful chronology of Rimbaud's life, and the unfinished suite of prose poems, Illuminations. With A Season in Hell, they cement Rimbaud's reputation as one of the foremost, and most influential, writers in French literature.
From the Trade Paperback edition.
Pages of A Season in Hell & Illuminations :