Life Before Damaged, Volume 5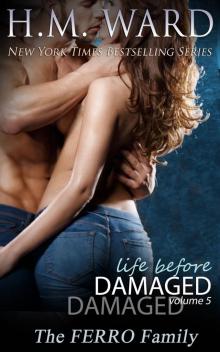 by H. M. Ward
Genre: Young Adult
Published: 2015
Series: Life Before Damaged (The Ferro Family)
View: 430
Read Online
Read Life Before Damaged, Volume 5 Storyline:
**BY NEW YORK TIMES BESTSELLING AUTHOR HM WARD 
Money. Power. Sex. **
This can't be happening. Maybe storming off to the club and getting sloshed was a bad idea, but I couldn't handle all that's happened. Forget for a while, that's all I wanted. After dancing with the wrong guy all night I planned on forgetting everything troubling me while rolling around in his bed. The problem is the guy is Pete Ferro and I'm me. It's a horrible plan to get all sinful and sweaty with him, but it's exactly what I need. One night with no connections, no worries, and a guy who isn't after my money or my family.
Screw it. I'm going to get lucky.
Genre: New Adult Romance  
This story unfolds over multiple volumes  
Length: Approx. 130 pgs 
Pages of Life Before Damaged, Volume 5 :